Helpful hints when packing your Warehouse Storage Unit: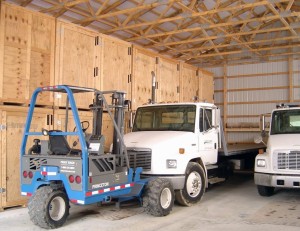 Distribute weight as evenly as possible – do not place all heavy items on one side or one end.
Place heavy items on the bottom and light items on top.
Pack everything as tight as possible to prevent shifting during transport. Fill empty spaces between items as much as possible.
Protect items with sheets, blankets or cardboard.
Make sure items are clean and dry.
Fill boxes as full as possible to reduce shifting and crushing.
Store items you may need to access near the door of the unit.
Secure the door when it's open to avoid unexpected closure or damage to the box.
Use a lock to secure the storage unit when unattended.
Make an inventory list of the items being stored.
Mark your boxes to indicate the contents so they are easy to find later.
---
Do NOT do the following with your Warehouse Storage Unit:
Do not let children play in, on, or around the storage unit.
Do not place flammable or hazardous materials inside or near the storage unit.
Do not remove the weatherproof cover from the storage unit.
Do not load more than 2,000 lbs. in a storage unit.
Do not pack aerosol cans, combustible products, flammable liquids or solids, oil-based paints, oil, hydraulic fluid, fuel of any type, fireworks, pharmaceuticals, alcoholic beverages, food products, or any other substance or material whose storage or use is regulated or prohibited by federal, state or local law, regulation, rule or ordinance.
---
Additional tips:
Furniture:
Disassemble if possible to take up less space.
Cover with sheets or blanket to protect from damage.
Remove the cushions from couches and stack lighter items on top, or stand couches on end.
Place mattresses and box springs in a protective bag.
Bicycles, Toys, Tools:
Clean and lightly wipe metal surfaces with oil for added rust protection.
Cover with sheets or blankets to protect the items and prevent staining others.
Breakables:
Use a dish-pack or glassware-pack boxes for greater protection
Wrap each item separately with foam wrap or paper sheets.
Stack dishes on their side and glasses upright.
To prevent crushing and provide stability, place heavier items on the bottom of the box.
Fill all open space in your packing boxes with paper.
Books & Papers:
To make boxes manageable, pack heavier items, especially books and paper files, in smaller boxes.
Large Appliances:
Clean appliances thoroughly before storing.
Keep refrigerator and freezer doors slightly ajar to prevent mildew.
Tape down all moving parts.
Store light items inside appliances with proper padding.
Clothing:
Wardrobe boxes are best for storing clothing. Shoes and folded items can be placed in the bottom, and use hangers on the bar provided.
Mirrors and Pictures:
Wrap mirrors and pictures with paper and pack in a mirror pack box. Do not lay mirror packs flat.